Roadmap for a successful hair transplant surgery
August 27, 2018 | By Dr. Sangay Bhutia (Hair Transplant Specialist in Delhi)
---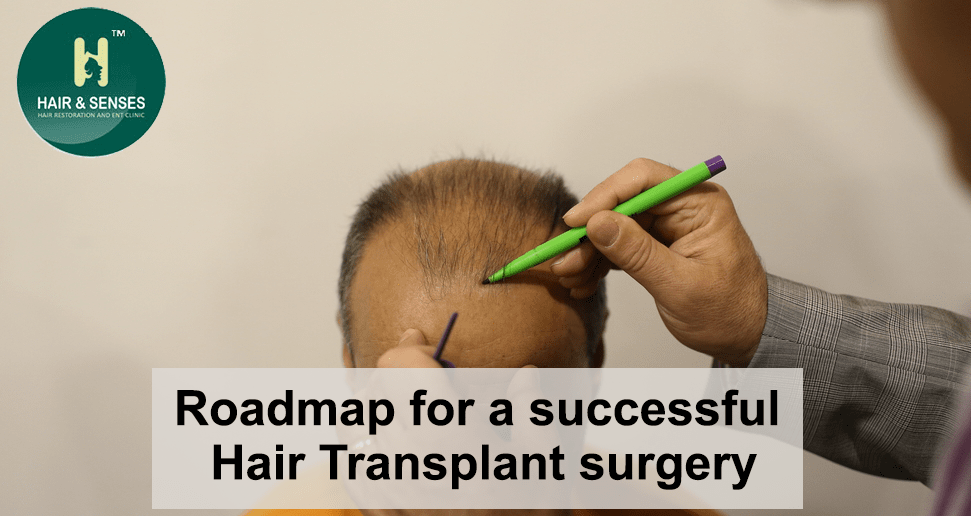 What makes a surgery successful? An experienced doctor, a good hospital, and scrupulously following pre and post-operative care instructions. It is the same with hair transplant surgeries. While hair transplants don't require long stays at clinics or hospitals, it is still a sophisticated medical procedure, which means that following the rules is absolutely necessary if you want good results.

Here we discuss the full roadmap to a successful hair transplant journey:

Identify the issue
Hair fall is the most natural process. Hair follows a routine of growth and fall, and to lose about 60-100 strands every day is nothing to worry about. But if you start losing hair in clumps and it happens over a period of time, it calls for a visit to the doctor. Now, hair fall can be caused by a variety of reasons. Poor diet, crash dieting, stress, and illness. All these kinds of hair loss are reversible. The problem arises if hair loss is caused by male pattern baldness or androgenic alopecia, which is extremely common in men. In men, this condition will cause hair loss in a well-defined pattern, beginning above the temples. And over time, the hairline will recede to form an 'M' shape.

It can happen to men as young as in their early twenties. A visit to a doctor can identify if androgenic alopecia is the cause of hair loss.

Medical tests
If you suspect permanent hair fall, the doctor will make you do some tests including a scalp biopsy and a study of family history of baldness. The doctor will also do a pull test, which involves pulling several strands of hair to see how many come out, to determine the cause of hair fall, and a light microscopy, which involves examining hair to diagnose any problems in the hair shaft.
It is also important to get blood work and other routine tests to negate any chances of illness that could be causing hair fall. The point being: don't rush into a transplant the first time you see hair fall.

A good doctor is everything
It cannot be said enough that the experience of the surgeon matters most in hair transplants. The surgery requires medical skill and experience, and the precision of an artist. To avoid any kind of botched surgeries, scarring, and a bad looking hair transplant, it is important that you do your research before zeroing on a clinic and a doctor. There are hundreds of options available in the market today, promising all kinds if discounts and things like robotic surgeries, which are nothing but marketing buzzwords.

To identify the right doctor, you can join online forums to discuss your hair situation, and for doctor recommendations. Narrow down on a list of clinics and surgeons available and correspond with them. Get them to send you client testimonials and fix a consultation, and only then choose a doctor.

The extracting, handling, preserving, and placing of grafts is a very delicate process, the experience of the doctor is essential to ensure that it all happens smoothly. Also, to design a natural-looking hairline is not something that any surgeon will be able to do. It has to be someone who has had ample experience, to make the end results look aesthetically pleasing.

Pick the procedure
The doctors will help you decide whether to go for a FUE or FUT procedure. FUE or follicular unit extraction involves harvesting hair follicles one by one by using micro punches from the patient's donor site, the back and sides of the head, and transplanting them onto the thinning or bald areas. FUE is ideal for patients with male pattern baldness and involves no incision and heals quickly.

Whereas, follicular unit transplantation or FUT, involves extracting a strip of scalp from the back or sides of the head and dissecting it into individual grafts, which are then transplanted on the bald spots. The difference between FUE and FUT is the method of extraction of follicles, while the rest of the procedure remains the same.

For some patients, hair transplant using donor hair from the scalp is not possible and therefore the surgeons use what is called Body Hair Transplant or BHT. It involves using body hair to replace lost hair on the scalp.

Post-operative care
Post surgery, the patient can go home in a few hours as soon as the anaesthesia wears off. Following post-operative instructions meticulously is very important for the success of the procedure. The patients are allowed to wash their hair gently with a mild shampoo but avoid scratching so as to not dislodge the grafts. They also need to avoid contact sports and intense sweat-inducing physical activities. Smoking and consumption of alcohol are also avoidable as they can slow down the healing process. Read more about Post-Operative Instructions for FUE Hair Transplant.

Hair restoration can be a truly life enhancing procedure, but it has to be done by a good surgeon.