Why Visit Hair & Senses
Hair loss is a common phenomenon that is affecting all age group people across the globe and is on increase due to many factors. Regular Hair loss can be treated using many available options but a situation of excessive hair loss or male pattern baldness, hair transplant surgery is the best suited treatment option that can help in restoring the natural look back.

At Hair & Senses, which is one of the leading hair transplant and restoration center in Delhi, we always work towards providing quality care to all our patients. Doctor and the dedicated staff team at the clinic are well experienced and have been working in this field for last 14 years.

List below are some of the reasons for visiting Hair & Senses
At Hair & Senses, all consultations are done by doctor. We don't have any counselor, marketing/sales personnel. At your consultation session, you will have evaluation for hair loss and you will get the advice on best possible management of the problem which may be medical or surgical.

At Hair & Senses, the surgery is only advised when it is indicated that's why we do comprehensive and detailed examination so that it is only done if patient is a good candidate for the surgery. You will be surprised to see that our doctor may tell you that you don't require surgery and go for medicines. That's why we are known for ethical and honest practice.

At Hair & Senses we are dedicated for providing best quality care for our patients and we always strive to provide best possible management for the hair loss problem that too at a cost which is very pocket friendly.

Hair & Senses is known for its natural and unnoticeable results. This we achieve as we consider each procedure different and provide the customized plan according to the patient's age, characteristics of the face, quantity of donor grafts available and angle/ orientation of the existing hair. While providing the surgical plan we always keep in mind the future hair loss and hence the donor requirement in future. That's why we always try to manage donor grafts as judiciously as possible. Aesthetic and artistic approach of the surgeon at Hair & Senses makes it possible to attain undetectable results.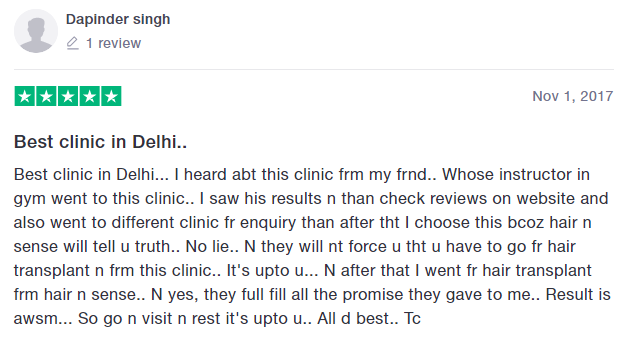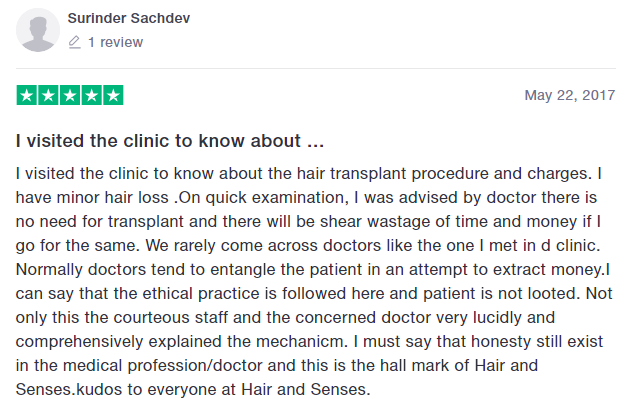 With increase in number of the hair transplant cases there are many clinics or medical centers across the India that promise high quality results without having experience in the relevant subject. People get attracted by lucrative offers from these clinics and end up with unpleasant results. We at Hair & Senses, being recommended by our esteemed patients, and numerous successful hair transplant case studies receive many patients who come to us to correct their poorly done previous hair transplant surgery. So, we are having significant number of repair hair transplant surgery patients in our practice.

Unlike other clinics or medical centers, we are readily available and easily accessible to all our patient 24x7. We believe that our patients and their satisfaction are our top concern and priority.

All the members of the staff team are well experienced and skilled in this field. The staff team members are full time employees and are not case to case called members. The team has been working together for last many years which are well seen in the co-ordination and the smoothness with which they work.

Patients come to Hair & Senses from across the globe regarding their hair loss treatment in view of the results we provide and our practice where strict ethics and protocols are followed. We are highly recommended by our patients across the globe which makes us one of the leading centers for Hair Transplant in India.